Ok so I did it.. I folded and took pics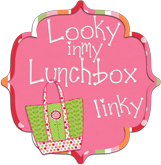 I am linking up to Tara's FAB linky party!!!
you should too because you can win a LUNCH BAG from 31!!!!
how cool is that???
I really wanted my NEW and cute FARLEY
31 tote
BUT
Kari still has it
SOOOOOOO bring on my vintage Farley 31
which I LOVE
and here is my lunch....
salad and very big turkey sandwich
and a cutie
did you know cuties are for kids?
I stole it from my kid (((WINK)))
too much food....
so I threw the half eaten stuff away
(germ freak)
and sealed up the rest for manana (that means tomorrow)
here are my lunch buddies' lunches too!!!
Monkey (that's what I call her) had already eaten her Lean Cuisine.... YUMM!!!
and Itty Bitty (another nickname) had her lunch catered by Olive Garden...
her mama and baby girl visit once a week and her AWESOME MAMA
brought her OLIVE GARDEN
today!!!
here are my lunch details...
we eat at 12:05
we pick up the kids at 12:35
ok 12:37
we head out to recess right after lunch for about 15 minutes
I enjoy my lunch time
because it overlaps with my 3rd grade buddies for about 10-15 minutes and then
it overlaps with my 5th grade buddies for another 10-15 minutes
Lunch is always a HOOT and a great time to unwind and share great stories!!!
**********************************squirrel***************************************
I wanted to share with you what I got in the mail today!!!!
OH EM GEEWILLIKERS
it was like getting a BIRCHBOX
but for teachers!!!
really it was that fantastic!!!
can you see why I was soooooooo excited???
OH MY GOSH
what teacher would not like to get this in the mail???
I LOVE MARKERS!!!
LUV LUV LUV
and I got a 30 pack of Ticonderoga PENCILS
PRE-SHARPENED pencils
MY FAVE
this is SOOOOOOOO cool...
I can't wait to show my kiddos
this really neat guide to how a pencil is made...
SOOOO neat!!!
There were some other goodies in there too like
LYRA groove slim colored pencils (picture on my FACEBOOK PAGE)... they are super neat
because they have polka dot grip zones to help grip them correctly
I just wanted to say THANKS to Brittany at Dixon Ticonderoga for sending me this AWESOME PACKAGE...and just in time for NATIONAL PENCIL DAY MANANA!!!
THAT IS RIGHT
NATIONAL PENCIL DAY IS
MARCH 30TH!!!!
go out and buy some pencils to celebrate!!!!
Ticonderoga...if you're cool like that!!!
******************************squirrel*********************************************
Remember I told you a few posts ago
that I LOVE Becky from
Dots n Spots
well today I loved her all over again!!!!
we used her math wall poster set 1 and 2...
these are fabulous math vocab posters!!!!
I wanted to make a lapbook/mini office of sorts for
all of the Math Vocab we need to know for the next round of testing
so I shrank Becky's word wall posters down and
KA POW
my kids have their own personal math word wall
each color represents a different section for EASY referral purposes
like the hot pink was the Geometry section
and the purple was Algebraic Thinking
and orange was Numbers and Operations
and so on!!!
these posters (now mini posters) have great definitions and great pics....LUV THEM!!!!
I am sooooooo happy with the way it turned out
and the kids loved them too
I am going to get them laminated for durability and YAY we are going to use use use use these ALL the time!!! ALL THE TIME!!!
thanks BECKY!!!
*******************************wrap up*****************************************
referring to yesterday's things I told you I would write about....
1. disinfecting was done but infectious disease was not infectious and not so much a disease...
overreaction MAYBE... but we had a nice review of washing hands and how you DO NOT share germs.... insert poster....
I kinda get a little CRAY CRAY when my kiddos get sick!!!
ok and then I have the second thing...
yesterday I went to PE with my kiddos and played a
dodge ball like game
BUT NOT DODGE BALL
it involved scooter boards, a variety of balls, a bowling pin
2 teams
a basketball court
two hula hoops in the middle of the court...
OBJECT get your bowling pin
that is balanced on your scooter board to your designated hula hoop
BUT your pin canNOT fall off or you have to go to the end of the line
all the while you are trying to scoot your board with a balanced bowling pin the other team also with scooters and pins are throwing balls to try to knock your pins off
and
and
and the catch you have to do this on your knees.....
ALL OF IT...
move your scooter board, throw balls, and score
ON YOUR KNEES...
needless to say I am unable to walk normally today
BUT I did only get out once yesterday!!!!
ONCE HA HA I was the queen of DODGE BALL PIN DERBY!!!!
I mean... it was FUN!!!
IT WAS AWESOME!!!!
MY TEAM ROCKED IT!!!
TOODLES