SOOOOO CYBER MONDAY is fast approaching...
FAST FAST FAST
and I am putting all of my stuff on sale!!!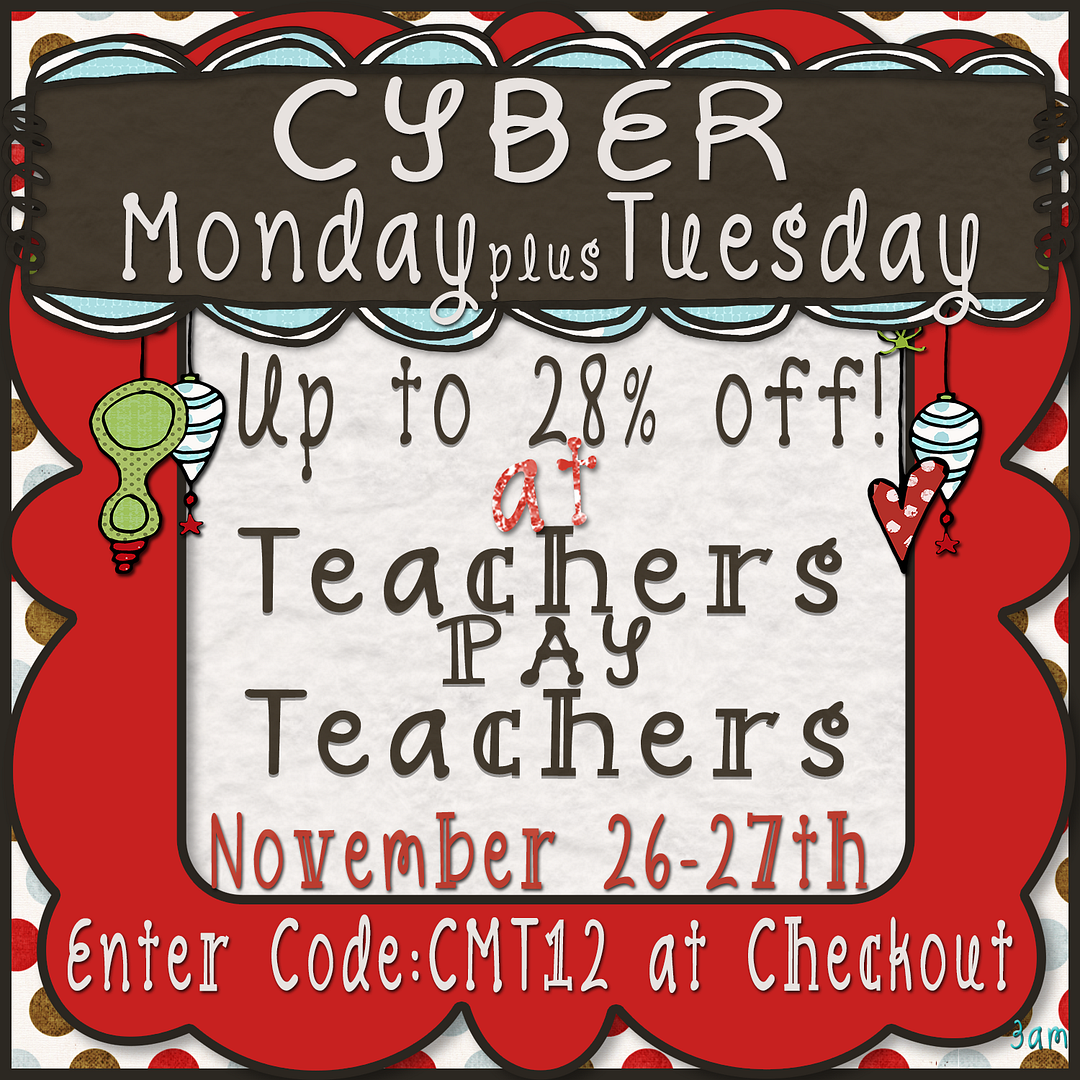 thanks so much to my FRIEND Michelle over at The 3am teacher for making this cute button!!!!

I wanted to share with you some of the goodies I have in my store that you might like :)
Just a few...
since my favorite number is THREE I am going to show you my TOP 3
Three isn't too much
RIGHT?
plus they are my FAVES
soooooo
here we go
Number 3
here is the link
http://www.teacherspayteachers.com/Product/Currently-for-Your-Classroom
My Kiddos love these things and we keep them in our Poetry Folders... It is so much fun to look back at things we were wanting and needing through the months :)
This is a goodie for all grade levels... it comes in 3 different printing options...
one for ... I can PRINT IN COLOR NO PROBLEM
one for ... I can print in a little bit of CoLoR and have my kiddos color the rest
or
one for... we have no money to print in color or I want my kiddos to decorate it
I personally let my kids decorate their own and it is SUPER UBER delicious!!!!
Number 2
here is the link for this...
http://www.teacherspayteachers.com/Product/Writing-Leads-hooks-posters-labels-examples-activities-and-editable
I spent the majority of my summer working on this...
and I LOVE IT!!!
my kids use it a ton for referencing and they love figuring out what type of lead their library books have...
FUN
I would say this is geared towards classrooms that WRITE
3rd and up
here are all the goodies....
lots of goodies in this one... SEE?
and
DRUM ROLL
Number THREE
HOLLA
here it is.... BRAND NEW
it is its DEBUT
on my blog...
my other HoLiDaY themed math packs get lots of love
SOOOOOOOOO
here is a Christmas one...
here is the link just in case....
http://www.teacherspayteachers.com/Product/Christmas-Math-Pack-for-Older-Kids
This is the biggest "Holiday Math Pack" I have made yet... my kiddos LOVE doing this type of review and practice.
Well chickadees and occasional chickadudes... it is getting late
and I still need to sugar spice the ham, cheese up the cream corn, and pack up the fire-cracker crackers...
YUMMO
Happy Thanksgiving to you all
and HAPPY CYBER SHOPPING
remember to use the code when you go shopping and
AND AND
there is MORE to look at...
what???
more to look at
yep yep
here is a list of other lover-lees throwing a sale too...
check them out...
is there a limit on how much you can put on your wish-list?
HMMMM???